St. Pauli guided tours
St. Pauli walking tour - germanys most famous reeperbahn guided tour now in english
Searching for germanys most famous St. Pauli walking tour or the best known reeperbahn guided tour? You finally found it – and it's now available in english!
In a nutshell: the success story of hamburgs most famous walking tour
We started in 2006 with "Olivias Safari", a legendary Reeperbahn guided tour with germanys most famous drag queen Olivia Jones. We grew fast, became famous for our sightseeing shows. But it took nearly 20 years until we started our first S. Pauli Guided Tour in english!
What makes us unique
We do Infotainment: With the best mix of information and entertainment. And our tour guides are real St. Pauli experts and locals.
We show the Kiez and its highlights in daylight. Genuine, authentic, unvarnished. The darkest corners, the most murderous pubs, the most memorable places, even off the beaten tourist track.
We tell exciting stories and insider knowledge. Find out more about the change in St. Pauli, its residents and the unique life in the Kiez while the air is still fresh and your head is still clear.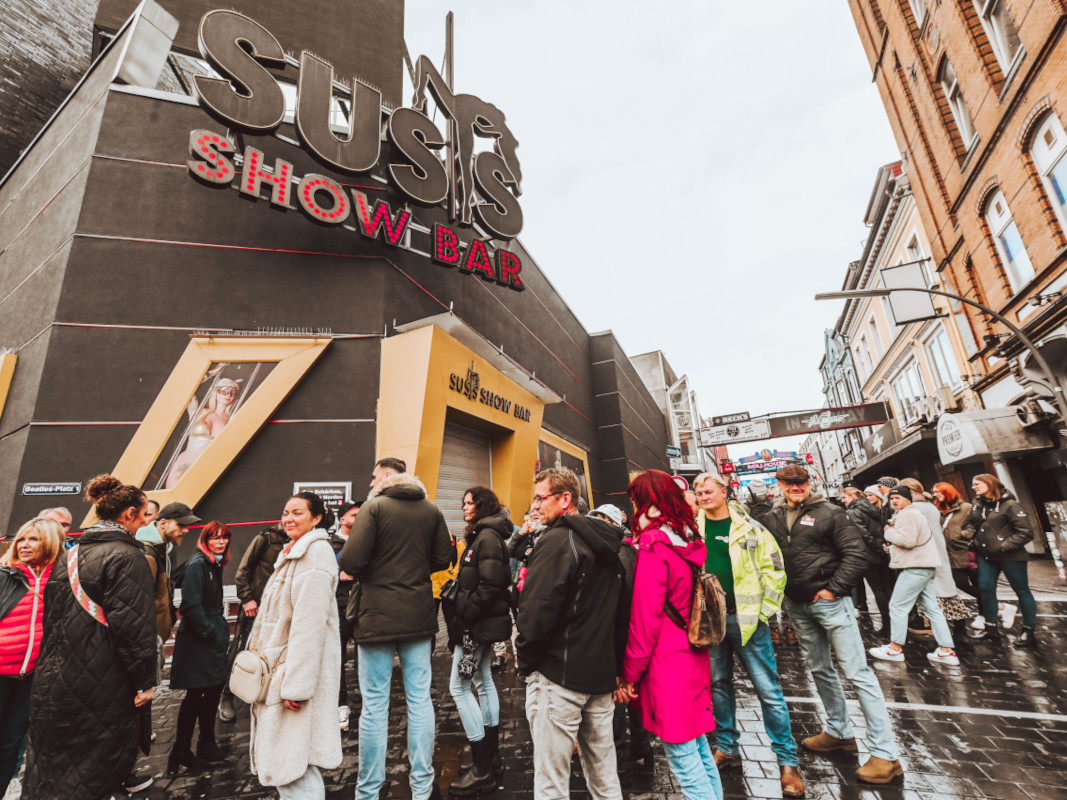 What you get: An entertaining deep dive into 400 years of "Diverstory"
Discover the highlights of Hamburg's Reeperbahn with a local tour guide and St. Pauli expert. Make stops at iconic locations and learn about the stars and starlets who've been through the town.
The tour takes you from the former Chinatown to Hamburg's most notorious bar where a mass murderer was amongst the guests. Walk along the Spielbudenplatz and past the world-famous Herbertstrasse.
See the well-known police station Davidwache and the boxing bar "Zur Ritze". Stroll along Große Freiheit into the heart of St. Pauli.
Learn how the Große Freiheit got its name and whether women are allowed to walk through the public street of Herbertstrasse.
Telling all you need to know, showing all you must see!
Your guides provide answers to the most important questions so that you are well-informed about the extraordinary history of St. Pauli.
Discover the real life in St. Pauli with a real neighborhood expert
Exceptional insights into the world of Hamburg St. Pauli
Perfect mix of information and entertainment – a real sightseeing show
Find out more about the change in St. Pauli and its residents
Experience an entertaining mix of entertainment, history and Kiez-culture
Taste St. Pauli's cult schnapps – hand-mixed in perhaps its best recipe
Inclusive: One drink and schnapps at the endpoint
Hear exciting stories about Herbertstraße, Davidwache, Ritze and Olivia Jones
Get tickets / vouchers now!